Body Treatments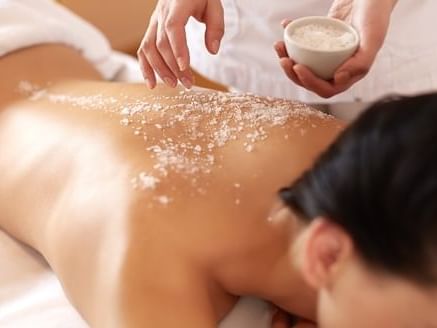 Our body scrub & body wrap treatments are the ultimate in . Made from natural ingredients, all products are designed to revitalise your body and mind.
NATURAL MINERAL BODY SCRUB
Deep pore cleansing scrub for body. Contain mineral powder to gently exfoliate & remove dead skin cell. Help promote healthy skin.
45 mins / BAHT 1000
 
ANTI-OXIDANT GREEN TEA BODY SCRUB
An anti-oxidant treatment using rejuvenating green tea exfoliating scrub.
45 minute / BAHT 800
 
LANNA TANAKA BODY SCRUB
Benefit from natural herb with nourishing yogurt will leave your skin glowing and radiant with gentle scrub feeling.
45 minute / BAHT 800
 
NATURAL MINERAL CLAY BODY MASK
Balancing and Cleansing Body Pack. Additive-Free and 100% natural, the clay pack cleanses, freshens and rejuvenates the skin.
60 mins / BAHT 800