Festive Cheer from There to Here...
Somehow, suddenly, it's December! And with that, the festive season is upon us. The city streets are resplendent with decorations and while it's unlikely to be a white Christmas, La Niña's cooler-than-normal temperatures might add a European air to yuletide celebrations. We've wrapped up some of our favourite highlights around town to get you feeling festive. Ask our concierges for their tips and directions to enjoy the best of Sydney's Christmas events and activities.
It is such a relief that Australia's interstate and international borders are opening and the city is starting to welcome travellers from near and far. We're so happy to see these reunions playing out and people enjoying the city of Sydney again. Naturally, the only constant is that travel advice continues to change.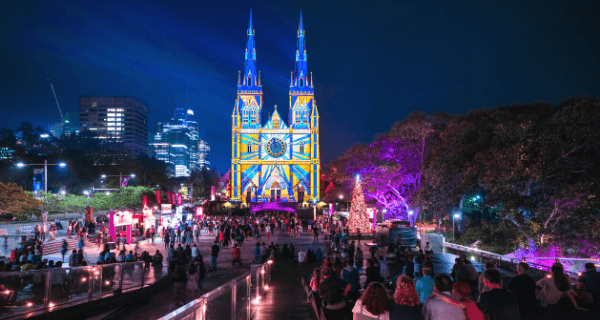 Photo Credit: Destination NSW. St. Mary's Cathedral illuminated by the Lights of Christmas light projection in Sydney
The annual Lights of Christmas illuminate Sydney's majestic St Mary's Cathedral façade. Marvel at kaleidoscopic projections, visual effects and digital storytelling complemented by a beautiful soundtrack and carolling choirs. This free spectacle has become a firm festive favourite with locals, visitors and families alike. From 7:30pm 9-25 December | St Mary's Cathedral Square, College St, Sydney | FREE.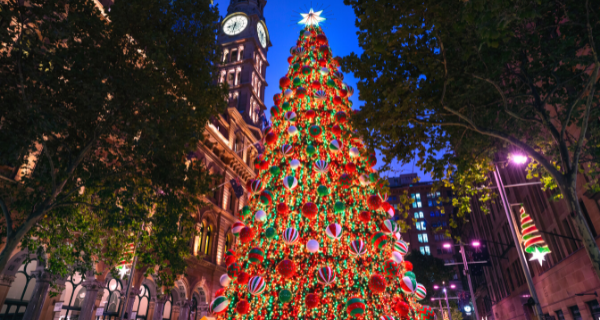 Photo Credit: Destination NSW. The Martin Place Christmas tree illuminated by lights.
Stand in front of the magnificent Martin Place Christmas Tree and you're guaranteed to feel like an elf. Sydney's largest Christmas tree stands 25 metres tall and sparkles with more than 110,000 LED lights (!!), a 3.4 metre colour-changing star and 330 specially commissioned glossy baubles. While it resembles a traditional fir, its 800 branches are dressed with native flora. Between all the fairy lights there are 15,000 blooms that represent nine different kinds of Australian flowers: banksia, waratah, bottlebrush, wattle, eucalyptus gum flower, kangaroo paw, flannel flower, pink wax flower and white wax flower. Around the base of the tree each day of the festive season, choirs of carollers invite you to sing along and get into the festive spirit. In situ now until 1 January 2022 | Martin Place, Sydney | FREE.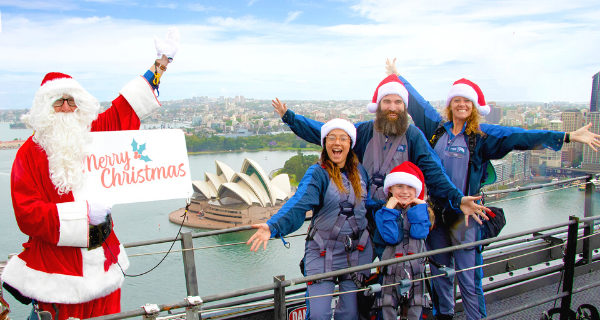 Photo Credit: BridgeClimb Santa at the Summit.
If having your picture taken with Santa is an annual tradition, you can take it up a notch with Santa Photos at the Summit of Sydney Harbour Bridge. Climb to the top and pose for a snap with Santa 132 metres above sea level with the iconic sails of Sydney Opera House as your backdrop. Now until 19 December | 3 Cumberland St, The Rocks | Prices from $248 for adults and $139 for children.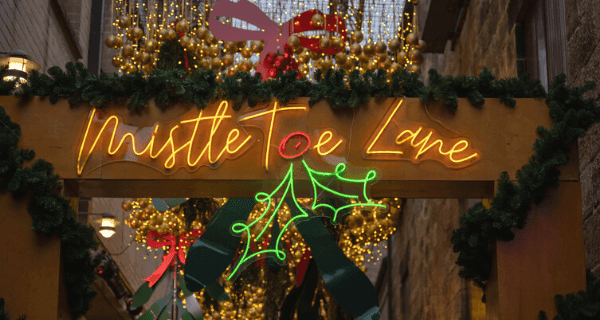 Now, it wouldn't be Christmas without presents. Gift giving is as much of a pleasure as receiving, and finding the perfect present for loved ones is a joy. Bee-line to The Rocks Christmas Markets where you'll find a buzzing festive atmosphere with unique gifts from local makers and artisans at stalls lining the cobbled streets and heritage laneways. 10am-5pm Fridays Saturdays and Sundays from 3 to 19 December | Playfair St, The Rocks.
Wishing you a very merry Christmas!
Team Amora
Published 8/21/21