FISH OF THE MONTH
Cone bay barramundi + any two sides | $48pp
Savour in the sweet buttery flavours of one of the countries most succulent and freshest Barramundi.
Wine recommendation: La Bohème Riesling, Yarra Valley, Victoria - Barramundi has such a lovely sweetness that the crispness of a La Bohème Riesling would complement the luscious silky finish of a well-cooked Barra.
From 5pm until late. Book your table by calling 02 9696 2632.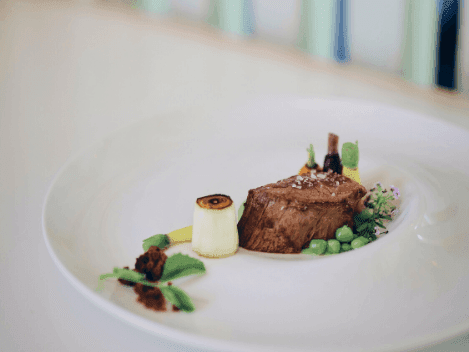 Indulge in Croft Restaurant's dinner menu
Croft Restaurants' menu focuses on delicious, fresh and locally sourced produce, prepared in a simple fashion to the highest of quality.
Delight in an amazing selection of land to sea produce, such as delicately prepared ceviche kingfish and watermelon, milk braised pork belly with kimchi, and local Cone Bay barramundi, complimented with baby peas and mussel butter. Savour in rich flavours of riverine pastrami crusted lamb loin, smoked eggplant, sheep's yoghurt, broad beans, and mushroom saffron ravioli with salsify, green coffee and hazelnuts.
Come and join us from 5pm, 7 days a week, and experience exceptional culinary creations in a most delightful ambiance.
Call 02 9696 2632 to book your table.