Massages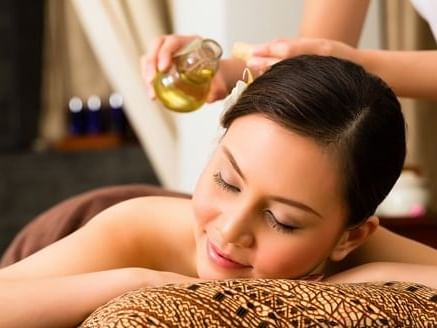 Enjoy the many relaxing benefits of massage including stress relief, muscle tension relief and improved circulation.
TRADITIONAL THAI
Experience the world renowned Thai massage, this massage concentrates on the pressure points of the whole body with muscle stretching movements to relax tight muscles and stimulate the blood circulation.

60 mins / BAHT 400
90 mins / BAHT 600
120 mins / BAHT 700

THAI HERBAL
This is a specialty Thai massage using hot herbal compress to stimulate the acupressure points. It helps to relax tired muscles and blood circulation.
90 mins / BAHT 1000

HEAD, BACK & SHOULDER
The ideal massage to combat stiffness and stress, concentrating on the back and shoulders it helps ease shoulder strain and relieve tension.
90 mins / BAHT 1000

FOOT REFLEXOLOGY
Try the oriental traditional foot massage using acupressure points. The easy, safe and effective way to promote and maintain good health.
45 mins / BAHT 400

AROMATHERAPY BODY MASSAGE
Ease away all stress and strain with this soothing massage. Pure essential oils are used to induce deep and gentle relaxation.
60 minute / BAHT 800
90 minute / BAHT 1200
120 minute / BAHT 1500

SWEDISH MASSAGE
A full body massage both invigorating and relaxing. The classical movement helps to reduce tension, soothe sore muscles and increase circulation.
60 minute / BAHT 800
90 minute / BAHT 1200
120 minute / BAHT 1500

SPORTS MASSAGE
A deep tissue massage specifically targeted at muscles used in specific types of athletic training.
60 minute / BAHT 800
90 minute / BAHT 1200
120 minute / BAHT 1500