The Ultimate Comfort Foods – Amora Hotel Jamison Sydney Serves Up Seasonal Flavours to Savour
Winter is well and truly here. There's a real romance to these cooler seasons as we embrace the chill in the air and the chance to cosy up and watch the clouds for a moment.
Amora Hotel Jamison Sydney's Sous Chef Francisco Diaz and Bar Manager Mikar Lama look straight to nature for inspiration when it comes to bringing autumn flavours and winter warmers to Amora's menus.
"When autumn and winter comes to Australia, mushroom season arrives too. After rain showers, I love to forage for mushrooms. You might find Slippery Jacks, but the most common edible wild funghi are Saffron Milk Caps or Pine Mushrooms."
Their orange-red colour makes them easy to spot despite their irregular shape. When young, they start off as buttons and can grow to the size of dinner plates. Look for gills that are a consistent orange and a stout stalk that tapers to a small point at the base. If you find a cluster – or troop – carefully pick the best ones and fill your basket.
"Most people will prepare these mushrooms grilled or fried with garlic and olive oil, or served with pesto sauce and herbs as well. Some prefer to fry mushrooms with bacon and then add them to pasta. I love to prepare a delicious-creamy wild mushroom risotto, which goes really well with some fresh garden herbs, young silverbeets, parmesan or pecorino cheese and a good glass of Pinot Noir", says Francisco. You'll find our Wild Mushroom Risotto with Silver Beets and Clotted Cream below.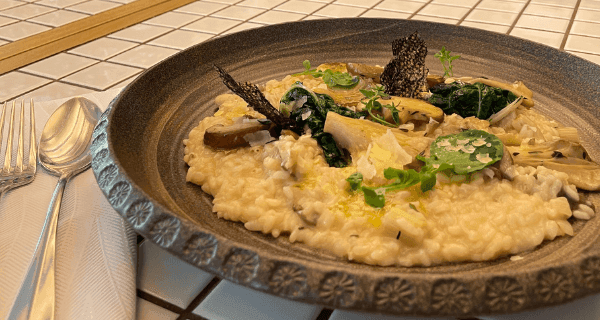 As the mercury outside dips, it's wonderful to have the oven on for a sumptuous slow cook. After a bit of early prep, these dishes can be left to do their thing. While you go about your busy day, the oven warms up your home, the flavours render and become more and more delicious as the hours stretch on toward the evening. It's always a treat to pull out the roasting pan full of melt-in-the-mouth magic.
"My ultimate comfort food is a superb slow braised lamb shank. I love cooking lamb shanks because they are perfect for a hearty family meal. A combination of herbs and spices, carrots, celery, red wine and herbs create a complex, mouth-watering dish that served with mash potatoes has always been a must in my own family," says Francisco. Enjoy making your own with my recipe below and remember to share your delicious dishes on our socials.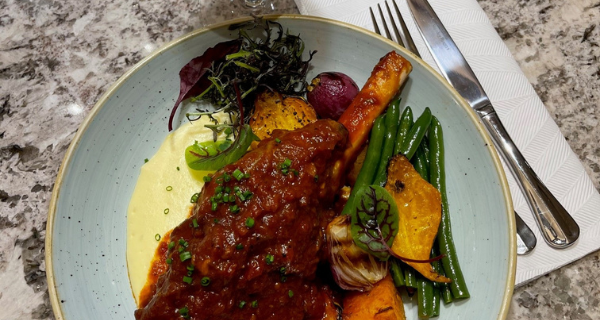 For Bar Manager Mikar Lima, the rich, moth-watering flavours of this winter dish are perfectly complemented by a 2021 Montrose Shiraz from Mudgee, NSW. "Nestled in the hills edge on the outskirts of Mudgee. Montrose is the region's pre-eminent winery. Situated at over 500 metres and with soils of ancient red clay loam of volcanic origin, the Montrose vineyards deliver distinctive high quality grapes that with careful nurturing create wines of outstanding varietal character, complexity and balance."
Mikar's pouring notes: A dark ruby purple. Peppery spice, anise, ripe dark fruit aromas. Strawberry, mulberry and mulberry leaves, blueberry fruit. This ripe palate of dark fruit is bound with liquorice, light peppers, and well-integrated oak. Medium colour, flavour and tannin. Richly textured with notes of cloves, tobacco, oak, vanilla, and bay leaf.
A perfect pairing!

Wild Mushroom Risotto with Silver Beets and Clotted Cream
Pine Mushrooms
With a little brush, clean mushrooms one by one (take your time). Bring a big pot of water to the boil and cook the mushrooms for five minutes. Take the mushrooms out and plunge them in icy water. When totally cool, drain them again and portion in small Vac Pac bags adding olive oil.
Mushroom paste
Button mushrooms, 1 box
Olive oil
Fresh thyme and rosemary, thinly chopped
Garlic, peeled
Black pepper
Method:
Pre-heat the oven to 180C. In a large bowl combine the mushrooms, salt, olive oil, herbs, garlic and pepper. Put the mushrooms on a baking tray and cook them in the oven for about 20 minutes (until golden).
Place the mushrooms in the food processor and process the mixture until a paste consistency.
Mushroom and silver beets
70g King Brown mushrooms
70g Shitake mushroom
100g Pine mushroom
½ bunch Silver beets
15g (1-2 cloves) crushed Garlic
Rosemary, thinly chopped
Salt and black pepper to taste
Method:
In a large skillet over high heat, sauté the mushrooms in the oil until golden brown. Add the garlic and rosemary and cook for two minutes. Season it and set aside.
In a large pot with boiling water, blanche the silver beets (already cleaned, trimmed and chopped). Plunge into icy water. Drain them and add them to the mushrooms mixture. Keep chilled.
Risotto
320 ml, vegetables broth
1 onion, finely chopped
2 tbsp. butter
180g, Arborio rice
3 tbsp. White Wine
2 heaped tbsp. Mushroom and silver beets mix
2 heaped tbsp. Mushroom paste
2 tbsp. grated Parmesan or Pecorino cheese
Simmer the stock for 10 minutes. While the stock is simmering, heat 1 tbsp. of the oil in a wide, sauce an. Tip in the onion and fry gently for 5-6 minutes, stirring, until it is soft but not coloured. Add the rice and continue to stir and cook for 1-2 minutes until the grains become see-through at the edges and begin to make 'clicking' noises.
Add the wine (it should bubble and evaporate), then 50ml of the stock. Stir well and simmer gently until all the liquid has been absorbed. Now pour in another 50ml of stock and stir again. Continue adding the stock and stirring. Carry on adding stock in small amounts until it has been absorbed; this will take about 10 more minutes.
Add the mushrooms paste and the mushrooms and silver beets mix and cook for 2 minutes.
Now the risotto should be a little wet and sloppy and the rice tender with a nutty bite.
Turn off the heat, then gently stir in the grated Parmesan, taste and season. You may need only a little black pepper as the Parmesan and stock are both salty.
Spoon the risotto on to a plate, top with a good size pine mushroom (warm up in a pan with butter only), a quenelle of clotted cream and Parmesan shavings. Top with chopped chives.
Slow Braised Lamb Shank
Ingredients:
6 lamb shanks
Salt
Freshly ground black pepper
2 tbsp. extra-virgin olive oil
1 onion, chopped
2 medium carrots, peeled and chopped
2 stalks celery, chopped
3 cloves garlic, minced
2 tbsp. tomato paste
2 cups beef broth or water
1 (425g) can crushed tomato
2 sprigs rosemary
1 cup red wine
Directions:
Preheat oven to 175°C. Season lamb shanks with salt and pepper. In a large pan/pot over medium-high heat, heat oil. Add lamb and cook until golden all over, about 4 minutes per side. Work in batches as necessary. Remove lamb from pot and place on a resting tray.
In the pot, over medium heat add onion, celery and carrots and cook until golden. Add garlic and cook until fragrant, one minute more, then add tomato paste and stir until vegetables are coated.
Pour in red wine and reduce it down, then add broth and crushed tomato.
Return lamb shanks to pot. Add rosemary and bring to a boil. Cover and transfer to oven. Cook until lamb shanks are completely tender, approximately 2.5 hours.
Serve with mashed potato or sweet potato mash and green beans.
Enjoy!
Team Amora
Content: Freya Lombardo. Published 21/06/22