Festive Flavours at Amora Hotel Sydney...
It's beginning to feel a LOT like Christmas. The tree is up in our foyer and it is dressed to impress. We hope you forgive us if we play a few favourite festive tunes as we get closer to 25 December. Eat, drink and make merry!
If you're staying with us at Amora Hotel Jamison Sydney through the Christmas week, expect wonderfully seasonal festive menus in our restaurants, cafes and bars. We're thrilled to announce that our generous Christmas Day Lunch is back! Bring friends and family to Croft Restaurant for a sumptuous seafood buffet with sparkling wine on arrival, gifts for the little ones and a visit from Santa. Priced at $169 per person for adults and $70 per head for children 5-12 years, and under 5s eat free. To book, talk to our Functions team today: 02 9696 2500 | functions@sydney.amorahotels.com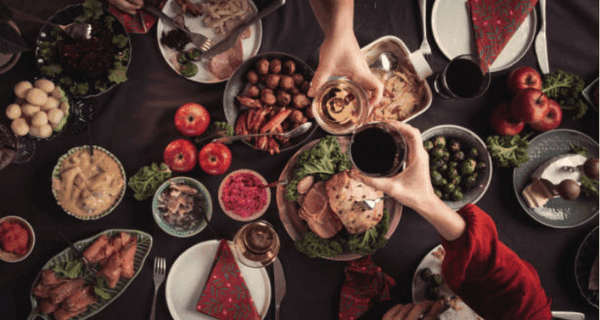 Now that the festive season is in full swing, it's also a great time to think about what you'll put on the Christmas table and in the glasses of your loved ones. If you're planning a round of Secret Santa – or better yet, Thieving Elves, where you can steal each other's Secret Santa gifts – we have the perfect cocktail accompaniment.
Let us introduce you to Mr Grinch! He's green with envy, yet nowhere near as bitter or twisted as his namesake.
Here's how to mix him for maximum Christmas effect:
Crush a candy cane and add to caster sugar on a plate. Trace a lemon wedge around the rim of your glassware, then upend and dip into the candy cane sugar to rim each glass.
In a cocktail shaker, add [1 person]
• 40ml Malibu
• 15ml Midori
• 60ml Lemonade
• 5ml Galliano vanilla
Shake over ice and pour into candy rimmed champagne coupes. Garnish with a candy cane and enjoy!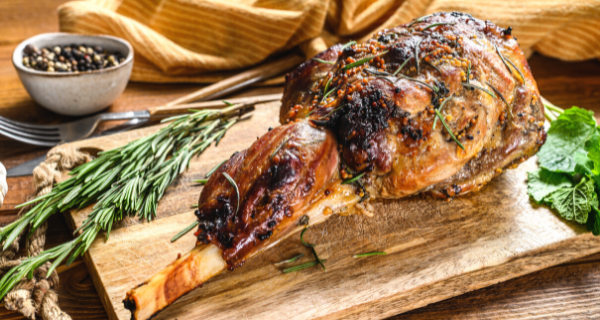 For the festive table, we spoke to our Executive Head Chef Hemant Dadlani for his thoughts on favourite flavours. For Hedmant, Christmas festivities are all about sharing the joy with families and friends, sharing a laugh and enjoying a feast together. Think tons of roasts, seafood, cherries, redcurrants and a mountain of sweets on the table.
"As a centrepiece of the Christmas feast, I have to say this classic lamb leg roast, from the Gascony region in the foothills of the Pyrenees mountains, has to be one of my all-time favourites for a family festive sharing table," he says.
Here's Hemant's secret roast recipe!
ROAST LAMB LEG "EN GASCONNADE" Porcini sauce chasseur, anchovies, garlic butter
INGREDIENTS
For the Porcini Sauce
Chasseur 200g fresh porcini mushrooms, or 50g dried porcini
2 tablespoons olive oil
2 shallots, diced
2 cloves garlic, diced
½ cup Madeira
½ cup veal demi-glace
1 bay leaf
1 sprig thyme

For the Lamb
1 pc 2.5-3.5 kg Riverina district NSW Lamb – whole leg of lamb on the bone
1 bulb whole garlic, peel and keep
10 cloves
10 fillets of anchovies in oil
2 sprigs of thyme
150g duck fat
1 carrot, chopped coarsely
1 onion, chopped coarsely
1 turnip, chopped coarsely
1 cup duck and veal demi-glace

METHOD
For the sauce
Soak the porcini mushrooms in cold water, then drain and let dry thoroughly. Heat the olive oil in a medium-sized skillet over medium-high heat. Add the porcini and sauté for 2-3 minutes. Reduce the heat, add the shallots and garlic, and cook until translucent. Add 1/cup of the Madeira to the pan, stirring constantly. Add the demi-glace, bay leaf, and thyme and simmer over low heat for 15-20 minutes. Thicken the sauce with a slurry of cornflour to the desired consistency.
For the lamb
Preheat the oven to 180C. Use a sharp knife, make multiple small incisions in the lamb leg and insert peeled garlic cloves in it. Make 10 more incisions and insert anchovy fillets in them. Keep the anchovies near the surface. Season the leg of lamb with sea salt flakes and cracked pepper. Take a roasting pan, heat over the fire (charcoal fire preferred). Pour the duck fat and heat the fat in the pan. Drop in the leg of lamb, sear it well on all sides. Place the roasting pan in the oven and roast for 50 minutes. Take the pan out of the oven, rest the meat for 30 minutes, and add in carrots, turnips, onions. Place the pan again in the oven at 180C for another 50 minutes. After this step, take the meat out of the pan, place it on cooling racks and let the meat rest for further 30-40 minutes in a warm place. Discard the duck fat from the pan, deglaze the pan with demi-glace and reduce this pan just to pour over the meat while serving. Before serving, place the lamb back in pre-heated oven for 10 minutes, slice the meat and serve with sauce.
Ps. Remember to share your festive foodie snaps and inspo with us #amorafestiveflavours.
Festive wishes! Team Amora
Published 22/21/21